Information Technology uniforms can be ordered from
Home Team Supply, 681 Saybrook Road, Middletown, CT 06457, 860-852-0500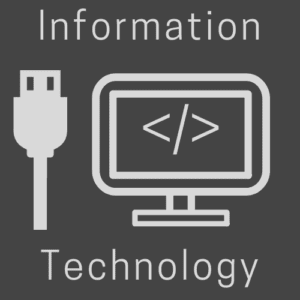 COURSE DESCRIPTIONS*
ADDITIONAL PROGRAM INFORMATION
15 Credits at Middlesex Community College*
CSC101 Introduction to Computers (3 credits) *
CSC115 Introduction to Programming with JS (3 credits) *
DGA110 Computer Graphics (3 credits) *
DGA125 New Media Production (3 credits)*
DGA241 Internet Web Design (3 credits) *
*Must fill out proper paperwork.
Certifications
Students have the opportunity to take the following certification examinations:
Microsoft Technical Associate
Exam 98-365: Windows Server Administration Fundamentals**
Exam 98-366: Networking Fundamentals**
Exam 98-367: Security Fundamentals**
Exam 98-368: Mobility & Device Fundamentals**
Exam 98-369: Cloud Fundamentals
Exam 98-349: Windows Operating System Fundamentals**
Exam 98-361: Software Development Fundamentals
Exam 98-375: HTML5 Development Fundamentals**
Exam 98-379: Software Testing Fundamentals
Exam 98-380: Introduction to Programming Using Block-Based Languages
Exam 98-381: Introduction to Programming Using Python**
Exam 98-364: Database Fundamentals
Microsoft Office Specialist Certification
MS Word 2020
MS Word 2020 Expert
MS Excel 202020
MS Excel 2020 Expert
MS PowerPoint 2020**
MS Access 2020**
MS Outlook 2020**
Adobe Certified Associate Certification
Web Authoring using Adobe Dreamweaver
Graphic Design & Illustration using Adobe Illustrator**
Print & Digital Media Publication using Adobe InDesign**
Visual Effects & Motion Graphics using Adobe After Effects**
Digital Video using Adobe Premiere Pro**
Visual Communication using Adobe Photoshop
Interactive Media using Adobe Flash Professional
Students successfully completing this course of study will be able to pursue a two-year computer technology degree at state colleges and universities or go on to a four-year computer engineering degree. Students can obtain immediate employment in the information systems area. Jobs include: help desk assistant, sales, systems technician and database maintenance, to name a few. Students graduating from Information Systems also find great success in the military in fields like communications, information management and information systems technician.