Vinal Students Attend Middlesex County Chamber of Commerce Breakfast, Speak with Terrence Cheng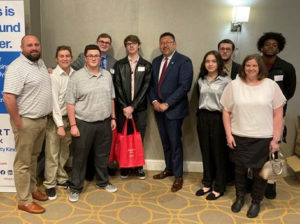 Vinal Tech AP/National Honor Society members attended the April Middlesex County Chamber of Commerce breakfast on April 21st.  Pictured with our students is Keynote Speaker, President Terrence Cheng of the Connecticut State Colleges and Universities. President Cheng spoke of the advances of the everchanging post-secondary educational world and how our students are as well-equipped as any to be successful in the future. It was a pleasure to have these students along as they exemplified our core Values of PRIDE. Thank you to President Cheng for speaking personally to our students and for the photo opportunity.
Professionalism – In their attire and how they carried themselves
Respect – was shown by their ability to remain engaged in the messages President Cheng was conveying while speaking
Integrity – in their ability to work hard to achieve their honors of National Honor Society
Diversity – was present as they were able to network with business and educational professionals from all around the region
Excellence – in the classroom, school and personal community is what earned them the honor of being AP and NHS students
Proud to be a Hawk! Thanks again to Mrs. Barnes and Mrs. Papadopoli for helping make this trip happen.